Anti-bullying during the pandemic:
Online bullying:
Due to more children being online at present, the risk of online bullying is higher. If you have any concerns about online bullying please contact the school to speak with one of our safeguarding leads.
We will do our best to support you and your child, but we can't help if we don't know!
Any concerns or queries can be emailed to [email protected]
Below are some links that may be able to help answer your questions about online bullying:
https://www.bullying.co.uk/cyberbullying/
https://www.nationalbullyinghelpline.co.uk/social-media.html
https://www.nspcc.org.uk/what-is-child-abuse/types-of-abuse/bullying-and-cyberbullying/
Anti-bullying at Northfield
We are a restorative school!
Click here to view our anti-bullying policy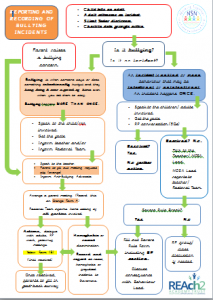 Prevention
Each week we have a safeguarding theme which the children learn about in PSHE. Anti-bullying is covered in the theme of the week. We at Northfield feel it is important to raise awareness to prevent bullying. Our Restorative Practice policy compliments this.
Orange Forms
We take bullying seriously at Northfield. It is important to let us know if you have a bullying concern so we can act quickly. If you have a bullying concern you can book a meeting with Mrs Howgate our Anti-Bullying Advocate to complete an orange form.
We have a very clear process to manage bullying in school whether it's in school, online or outside of school. We are here to help!
Step by step guide to our anti-bullying process:
Bullying concerned raised.
Meeting booked with parent/carer to complete an orange form capturing the facts: who, where, when, how many times?
Actions set and agreed with the parent/carer and pupil. These include (tailored to the pupil/family): informing the home setting of the wrong doer, restorative work to take place, home communication log, check-ins with a key member of staff, restorative work with children and between families if needed.
Once the actions have been agreed by the family of the 'victim' a follow-up meeting is booked to review the progress within two weeks of the original meeting. Actions maybe carried over and/or new ones put in place. Continued communication with the home setting is key.
This process of reviewing the actions/impact is continued until the victim and family are happy that the concern has been resolved.
We feel it is important to support the 'wrong doer' just as much as the 'victim'. Measures will be put in place to support the wrong doer to make the right choices and repair the harm in a restorative setting.
 Any concerns or queries can be emailed to Mrs Howgate at [email protected]