Computing
Intent
At our school we want pupils to become masters of the technology, which they use, not slaves to it. Technology is all around us and is a major part of our student's lives with them using it frequently during leisure times. As a result of this at Northfield St. Nicholas Primary Academy, we want to educate our pupils on how to use technology positively, responsible and safely, so Online Safeguarding is at the core of our Computing Curriculum. 
We want our pupils to understand that there is always a choice with technology and as a school, we utilise technology to model positive use. As a school, we are developing our communication with the wider community, via the use of social media to educate parents/carers on what the children within their care are accessing. We recognise that the best prevention for a lot of issues we currently see with technology/social media is through education. 
In line with the 2014 National Curriculum, we aim to provide high-quality computing education which equips children to use computational thinking and creativity to understand and change the world. When our children leave us at the end of Key Stage 2, we intend for them to have the knowledge and skills which will allow them to function at high school and provide them with good baseline skills set for if technology is part of the job role in later life. 
Within all subject areas, we are currently developing our use of technology to enhance the curriculum, so that we ensure we are meeting our A SUPERHERO goal. As a school we encourage staff to try and embed computing across the curriculum to make learning creative and accessible. We want our pupils to be fluent with a range of technology to enable them to best express their understanding.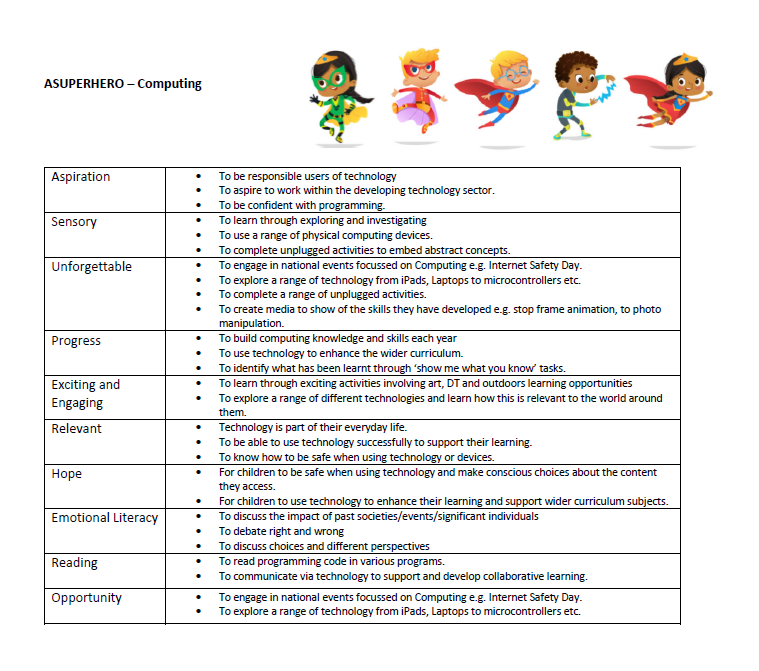 Click the link below to see more information on how we do it here at Northfield St. Nicholas Primary Academy.
Computing at NSNPA 'How we do it here'
Progression of Computing Skills
Computing Vocabulalry Progression
Online Safeguarding is at the core of our Computing Curriculum. We have even had Google – Be Internet Legends in to speak to our children about how to be safe online. Please click the links below for more information, or check out our School's Facebook page for regular updates for how to keep your children safe.
https://www.ceop.police.uk/safety-centre/
https://beinternetlegends.withgoogle.com/en_uk/toolkit
https://www.vodafone.co.uk/mobile/digital-parenting
https://www.internetmatters.org/
Computing Gallery