We are a very hard working and friendly team who absolutely want the very best educational experience for the children in our care. We have effective teachers who are committed to ensuring and providing high quality learning experiences which enable the children to be reflective learners. Every day, the highest quality feedback from staff ensures our children can develop, practice and apply their skills as well as being challenged to move on and make new learning progress as soon as they are ready to do so.
We have the very highest aspirations for the children in our learning community and set high standards and expectations to challenge our children to be the best learners they can possibly be. We are unwavering in setting high expectations for the conduct of pupils and staff and are uncompromising in our ambition to improve the outcomes for all pupils at our school.
We have a broad and balanced curriculum which inspires our pupils to learn, where safeguarding is effective and pupils are listened to and feel safe. "To keep you safe and to help you learn" is our mantra.
Our school motto – Working together to achieve excellence for all – captures what we hope to facilitate for all our stakeholders, from pupils and their families to our staff and other learning partners in the wider community.
Our calm and focused learning atmosphere, our focus on good conduct behaviour and ambitious learning expectations, our well-presented, well-resourced classrooms and other learning spaces. What makes us special is our staff team – dedicated teachers, committed teaching assistants and support staff, a wonderful pastoral care team and ambitious Senior Leaders and Governors who understand the needs of the children we are here to nurture, support and educate. However, what really makes our school special is the wonderfully enthusiastic, happy and curious children we have that are so keen to find out about the world around them. Why not come and take a look for yourself? Click here to view video.
Yours sincerely,
Mr. I W Owens
Headteacher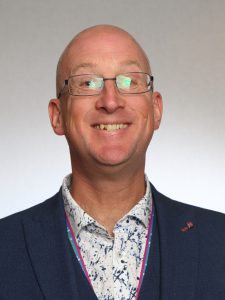 Northfield St Nicholas Primary School is committed to the safeguarding and welfare of children. It has thorough safeguarding and recruitment procedures. If you have any concerns regarding the welfare of a child at Northfield please contact our safeguarding leaders Lindsay Higgins DSL and Jade Howgate SO.
They can be contacted by phoning the school on 01502-563528