English & Reading (including Phonics)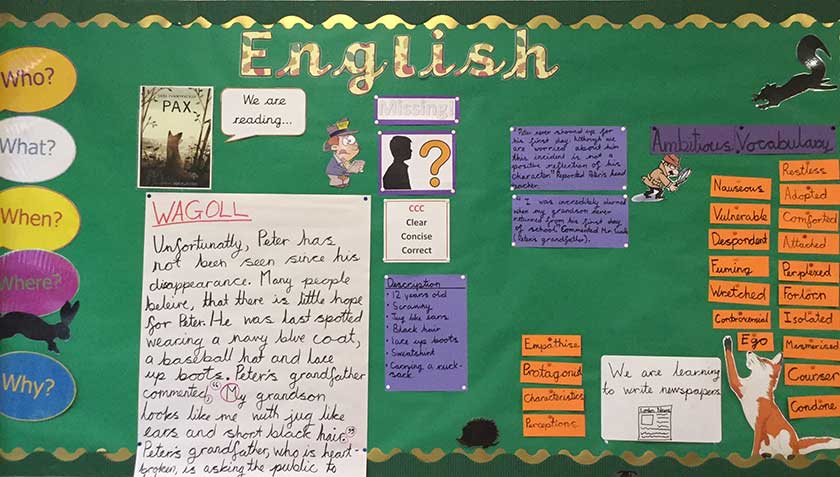 English & Reading

Phonics
In Nursery the children focus on the pre-phonic skills needed to support phonological development. We concentrate on developing children's speaking and listening skills, rhythm and rhyme and alliteration. The emphasis is to get children attuned to the sounds around them and ready to begin developing oral blending and segmenting skills. 'Fred talk' is used daily to support oral blending and segmenting development.
When appropriate we introduce children to the first set of sounds following the Read, Write Inc programme.
Phonics is taught in a highly structured programme of daily lessons across Reception/Y1 in groups differentiated according to children's phonic awareness and development. The Read Write Inc programme is followed. This allows the children to develop their phonetic awareness and apply these skills to their reading. Each session gives an opportunity for children to revisit their previous experience, be taught new skills, practise together and apply what they have learned.
Additional phonics intervention is delivered to pupils who did not pass the phonics screening test at the end of year 1.
Phonics Assessment
Children's progress is continually reviewed to allow for movement between groups, and children move phonics group when it is felt necessary to meet their needs. Children are formally assessed at the end of each half term to ensure that they are in the correct groups.
The national Phonics screening check is performed in June of Year 1. The children who did not meet the required standard for the check in year 1 enter again in year 2 with additional support.
Phonics is taught in Key stage 2 as an intervention strategy when required.
Reading in school
We love reading at Northfield St. Nicholas Primary Academy.
As a school we strive to engage and enthuse children with reading though high quality texts, picture books and a wide range of learning opportunities.
All staff are reading advocates and all learning spaces foster a love of reading.
"After nourishment, shelter and companionship, stories are the thing we need most in the world.''  Philip Pullman
Reading is central to our curriculum and children have many opportunities to engage with texts throughout the school day.
Our 'Lost Library' is an exciting and inviting space for all pupils to access throughout the school day.
Our Reading aims are:
To develop a love of reading
To develop accurate and fluent readers
To develop the children's vocabulary so that they can easily access a range of texts
To develop excellent comprehension skills, through the use of Reading VIPERS, so children can demonstrate a good understanding of what they have read
To support children who require additional help with their reading
Reading at home
At home is one of the most important ways in which you can help your child. As you share books, you are helping improve your child's reading skills and showing your child that reading is an enjoyable activity to take part in. We are incredibly lucky at Northfield St Nicholas Primary Academy to have an extensive and well stocked library, where children can access a wide range of reading materials that they can borrow and share with you at home.
If your child is finding it difficult to know what they want to read, here are some ideas:
Register on the CLPE's Core Books website for free to view regularly updated booklists sorted by age-range, genre, author or publisher (https://www.corebooks.org.uk/).
Speak to your class teacher or our school's reading advocate.
Speak to other parents. What books do their child(ren) enjoy?
Go to our local library and explore the wide selection of books available.
Boom Reader
Don't forget to log onto Boom Reader to see how your child is getting on with their reading in school, and to log any reading that they complete at home.

English Curriculum (Reading & Writing) :
Here are Northfield St. Nicholas we aim to transform the way that teachers teach and the way that children feel about reading and writing through the CUSP reading and writing curriculum.
All children engage with high quality picture books, novels, poetry and non-fiction texts thorough a wide range of teaching approaches. Children are immersed into texts through, music, art, drama, discussion and role play. Other approaches include responding to illustrations, book talk, story mapping and book making. Children take ownership of the texts and engage with them deeply.
NSN English How We Do It Here 2023-2024
NSN Discussion progression document
NSN Explanation progression document
NSN Information progression document
NSN Instructions progression document
NSN Narrative progression document
NSN Non-chronological-reports progression document
NSN Persuasion progression document
NSN Poetry progression document
NSN Recount progression document